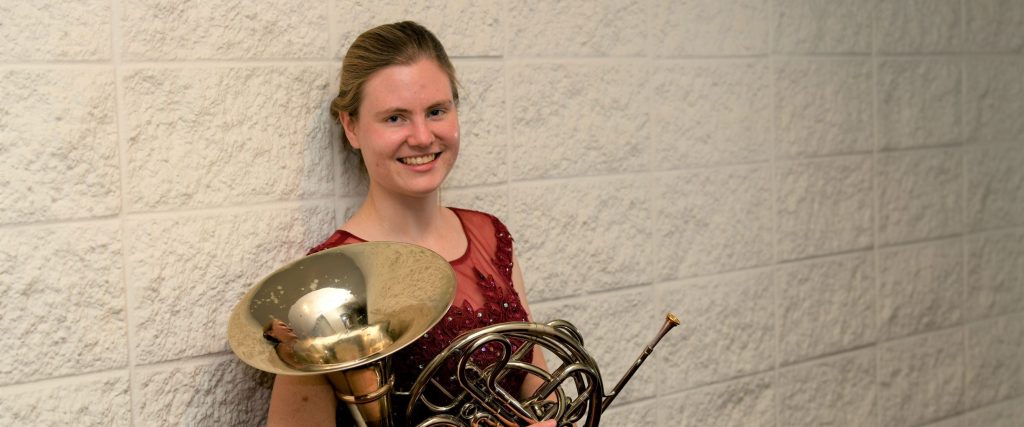 Bio
Rebecca Salo is the Consortium Horn in the Evansville Philharmonic Orchestra (Principal Horn) and University of Evansville (Instructor of Horn). As an active performer, she enjoys collaborating with other musicians in orchestral performances and chamber ensembles, as well as performing as a soloist. She is the co-founder of Duo Giústo, a horn and piano duo, and she is a member of Shepard Brass and Harlaxton Winds, the University of Evansville faculty ensembles.
As a teacher, Rebecca enjoys working with students of all ages. In addition to her collegiate teaching, Rebecca maintains an active private studio and regularly organizes studio recitals and horn choir events. To learn more about her teaching background and current program offerings, please visit her teaching page.
Rebecca has pursued doctoral studies at the Eastman School of Music, where she studied with Peter Kurau and served as the natural horn (historical performance) teaching assistant. Additionally, she was awarded the Performer's Certificate for her recital performance. Rebecca completed her Master of Music degree in Horn Performance from Indiana University, under the guidance of Jeff Nelsen with additional coaching from Dale Clevenger in orchestral repertoire and Rick Seraphinoff in historical performance. She also holds a Bachelor of Science degree in Electrical Engineering from Purdue University. Prior to her undergraduate studies, she spent a year studying abroad at the Fryderyk Chopin University of Music in Warsaw, Poland, with Kazimierz Machala. Rebecca has previously studied with Wayne Lu, and she has received coaching from Elizabeth Freimuth, Roger Kaza, and Randy Gardner.
As a soloist, Rebecca has appeared with multiple ensembles including the Evansville Horn Choir (2022), Lafayette Symphony Orchestra (2018), Purdue Wind Ensemble (2017), and Kokomo Park Band (2017). She received the National Society of Arts and Letters Peter Jacobi Memorial Award for her performance in a solo competition (2020), and she was selected as the winner of the collegiate solo competition at the International Horn Society Mid-South Workshop (2017). Additionally, Rebecca is the recipient of the Purdue Sudler Prize in the Arts (2018) and the Lillian & R.B. Stewart Award for Musical Excellence (2017, 2018). She has participated in several summer festivals, including the Chautauqua Institution Music School Festival Orchestra and the Detroit Symphony Orchestra Online Institute.
Beyond music and engineering, Rebecca enjoys outdoor activities including hiking, rock climbing, camping, canoeing, and running.
For inquiries about hiring Rebecca as a soloist, orchestral musician, or teacher, please contact her.