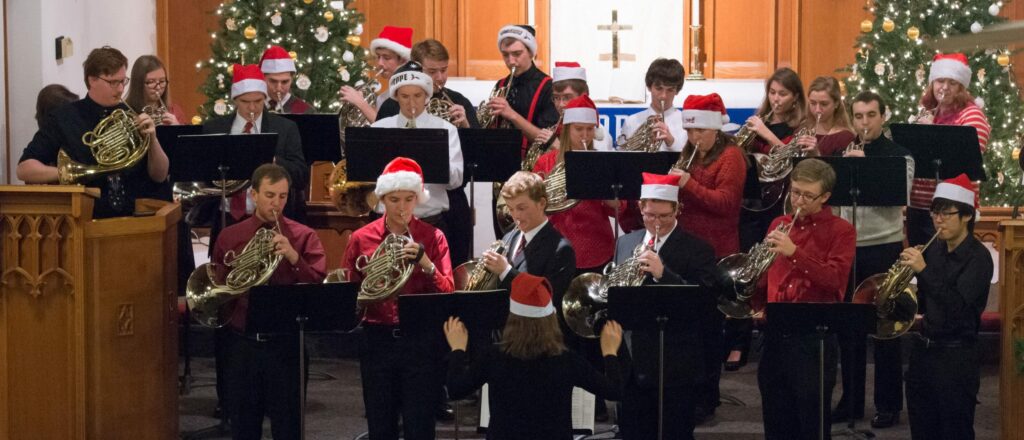 Teaching
Rebecca enjoys working with students of all ages and abilities to foster a love of music and horn playing, and she has maintained an active private studio for over 7 years. Please contact her to sign up for lessons or request an ensemble coaching session.
Private Lessons
In private lessons, Rebecca focuses on developing the fundamentals of horn playing, including tone production, flexibility, range, articulation, phrasing, and basic music theory. As students master these skills, Rebecca helps them refine their playing and develop their musicianship through standard etudes and solo works. She encourages her students to perform as often as they can, and she organizes annual studio performance opportunities.
Classes and Ensemble Coaching
Rebecca's sectional coaching experience includes teaching weekly horn sectionals at Bedford Middle School and Bedford North Lawrence High School (Bedford, IN). Previously, she has worked as a counselor, sectional coach, and International Youth Symphony Orchestra staff at Blue Lake Fine Arts Camp. She has also directed a summer horn choir program in West Lafayette, IN, and she is the founder of the Purdue Christmas Horn Extravaganza. During her graduate studies at the Eastman School of Music, Rebecca served as the natural horn teaching assistant. In weekly group classes, she coached undergraduate students in historical performance practice through a variety of excerpts and ensemble works; each semester, she organized a natural horn studio recital.
Junior Horn Ensemble – Christmas Horn Choir
Beginning November 22, 2021, Rebecca will be offering a Junior Horn Ensemble class through the University of Evansville Community Conservatory. Students ages 12-18 will collaborate to prepare a holiday horn concert that will be held at the University of Evansville on December 17. To learn more or to register for the class, please visit the Community Conservatory page.
Rebecca is available to teach private lessons, give sectional classes, and coach ensembles. Please contact her for current availability and rates.